webmail tradeindia, zimbra tradeindia, trade india mart com, tradeindiacom, tradeindia mart, tradeindia, tradeindia portal, b2b wholesale marketplace, global b2b marketplace, online b2b marketplace, indiamart b2b, tradeindia api integration, tradeindia app, b2b strategy, b2b marketing strategy, b2b sales strategy, tradeindia seller, tradeindia online, tradeindia online shopping, b2b marketplace for buyers and suppliers, tradeindia api documentation, tradeindia rajkot, tradeindia crm integration, tradeindia crm api, tradeindia crm documentation, tradeindia catalogue demo, tradeindia api integration, tradeindia products

Increase the Lead Conversation Ratio by

10x




by Integrating Tradeindia with Teknovate CRM
and
Boost ROI by

3x

!
Tradeindia, one of the top lead generation websites for the B2B marketplace , empowers seamless connections among traders, buyers, and manufacturers. As a reliable mediator, it brings these stakeholders together under one roof.

However, capturing leads from Tradeindia and importing them into your CRM can be a cumbersome process using Excel/CSV files.

By integrating Tradeindia with Teknovate CRM Software, you can ensure that no lead inquiry ever slips through the cracks. Stay on top of every opportunity with ease before your competitors..!
Since its establishment in 1996 , TradeIndia has been dedicated to serving global business communities.

Widely acclaimed, it acts as an ideal platform, facilitating seamless interaction and secure transactions between buyers and sellers, importers and exporters, and last for manufacturers.

Serving as a bridge , it promotes products and services, fostering easy communication and effective business conduct.

With its B2B business ideology, TradeIndia caters not only to domestic but also international markets , making it a powerful lead generation platform.

Small businesses and startups benefit immensely, as they can capture potential new customers and ensure customer retention with ease.


Why is TradeIndia Integration Important?

---
With Teknovate CRM's Seamless TradeIndia integration ensures that every lead is promptly captured and organized , freeing your team from tedious data entry tasks.
Utilize automated lead categorization and distribution to prioritize follow-ups and make the most out of every opportunity.
Maximize your sales team's potential and focus on nurturing valuable customer relationships with ease.


How to Integrate Takenovate CRM with TradeIndia Account
to Capture Leads?
---
Integrating TradeIndia with the Teknovate CRM software is a straightforward process that allows a seamless flow of data between the two platforms. To begin, access your TradeIndia account and navigate to the dashboard. From there, proceed to the "Inquiries and Contacts" section and select "Categories My Inquiry API."
Upon clicking this option, you will be presented with essential details, including your user ID, profile ID, and key. Take note of all this information and make sure to copy it accurately.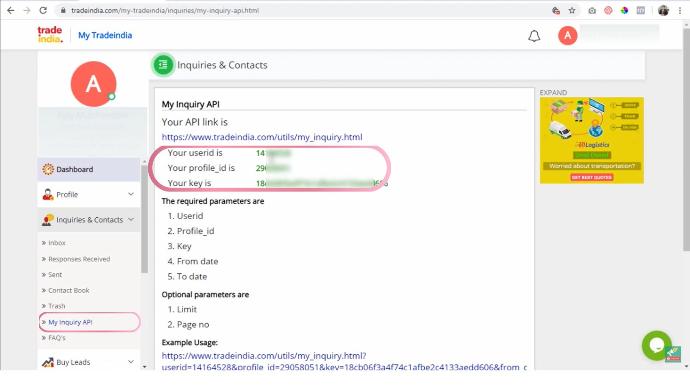 Now, open the Teknovate CRM System and go to the "Configuration" tab. Locate the option for TradeIndia integration and select it. Here, you'll be prompted to paste the previously copied details, such as the user ID, profile ID, and the unique key you generated earlier.

By pasting these details you will successfully integrate your TradeIndia account with the Teknovate CRM software. This integration will enable efficient management of inquiries and contacts , streamlining your business processes and enhancing productivity.
Benefits by Integrating TradeIndia with Teknovate CRM



---
1. No Lead Loss : Every inquiry made on Trade India is automatically captured, guaranteeing a seamless process with no lead loss.
2. Zero Manual Effort : By automatically capturing and mapping lead details, this system eliminates the need for manual data entry, ensuring a streamlined process and eliminates human error.
3. Nurture the leads : Effectively utilise auto-responders and drip marketing campaigns to engage the leads captured from TradeIndia. Guide them through the conversation funnel while providing valuable insights and nurturing their interest.
4. Track your Lead Live / Live Tracking of your Lead : With the Teknovate CRM software, you can effortlessly monitor the activity of each lead, schedule tasks, conduct timely follow-ups, and guarantee that no lead from Trade India is ever lost.
5. Auto Assign Lead : Efficiently distribute leads among your teams based on demographic and lead requirements by setting up customized automation rules.
6. Performance Analysis : Utilize the CRM's comprehensive reports to analyze lead performance, click rates, open rates, and the effectiveness of various lead generation channels, gaining valuable insights and plan your business strategies.

Observe Each activities of your Team & Accomplish the Desired Results!

Uncover the True Value of your Marketing Investment, Don't delay any further
schedule a free demo now.................
Advantages of TradeIndia Integration With CRM Software

---
Transform data into particle insights

Enhance Customer Relationship

Elevate Workflow Automation

Connect With Us
We will Put your Campaign into Sales Engine with many Other features...

---
All in one

A complete sales CRM software solution including Pre sales and Post sales service management for all businesses with powerful features to help you win more sales faster.

Easy to use

Gamified Experience, reduced learning curve, easy adoption, and productivity boost are just the starting point. Keep your sales up with our business CRM Software.

Customizable

Create custom layouts, use APIs to connect with the apps you are already using and with unlimited customization capabilities, do more with Teknovate sales CRM.

Let's Schedule a Free Demo​

---
Make the most of your valuable lead investments and take action today!
Register a live demo with our experts Now..!

webmail tradeindia, zimbra tradeindia, trade india mart com, tradeindiacom, tradeindia mart, tradeindia, tradeindia portal, b2b wholesale marketplace, global b2b marketplace, online b2b marketplace, indiamart b2b, tradeindia api integration, tradeindia app, b2b strategy, b2b marketing strategy, b2b sales strategy, tradeindia seller, tradeindia online, tradeindia online shopping, b2b marketplace for buyers and suppliers, tradeindia api documentation, tradeindia rajkot, tradeindia crm integration, tradeindia crm api, tradeindia crm documentation, tradeindia catalog demo, tradeindia api integration, tradeindia products