Why Inventory Management Software/Inventory Management System is a Must?

---
Tracking and managing Inventory is the most complicated task for any Trading or Manufacturing Business. Efficient Inventory management software is a must for tracking your inventory movements, forecasting, and planning of your purchase or production as well as planning the strategies for your sales, especially if your business scale up very fast.

The Problems you may suffer without Inventory Management Software:

​ Lack of Inventory movement tracking.
​ Trapping your precious money in Deadstock.
​ Loss of orders, because of unavailability of the stock.
​ Hold of production because of unavailability of raw materials.
​ Loss of many hours of the day of your employees in administrative work like planning of purchase and production.

Utilize all your resources
100%
and make your business more profitable with ease
---
Integrate all Departments

Benefits of Teknovate Inventory Management Software/
Warehouse Management System



---
The Inventory management software is integrated with all your departments like Sales, Purchase, Store, and Production, so it can efficiently track each and every inventory movement, and find out the required products in the near future based on your pending orders, and based on this, it will plan your next purchase and production automatically. So you can resolve all your above problems with the best inventory system ease which makes your organization more efficient, cost-effective, and productive.
How you will get benefits out of
Warehouse Management Software/
Inventory Management Software?

---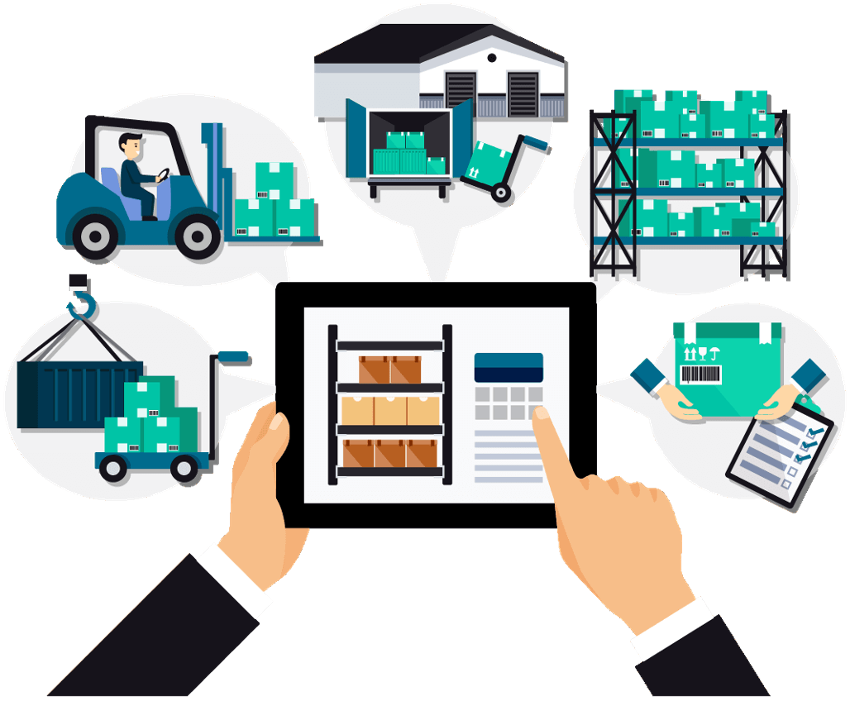 ​ Stock Forecasting: Stock forecasting means calculating the need for the stock required for your SKUs in a manner that does not hold your precious money in your stock as well as does not hold your regular operations like production and dispatch, so ultimately it will help any organization a lot to plan their purchase and production effectively so they can be the most profitable.

​ Automated Reordering: Even after successful forecasting, if you have not set your operation of ordering on auto-pilot mode, and still you rely on your employees to act, It may happen that you may suffer from stock unavailability at some crucial time, and it may hold your production or dispatch, which may be the reason for the loss of your order or client.

​ Multi-Step Inventory Routes : In Teknovate inventory management software, you can create multiple inventory operations and inventory routes. It will help you to auto-create one operation based on the completion of any other operations, so it will save time and your users get a clear idea about each inventory flow without any error. this will move your inventories smoothly within multiple locations or warehouses of your business.

​ Barcode Ready: Teknovate Warehouse management software is barcode ready, so it will print all your picking operations with the barcode and the source and destination location for better clarity. It will save lots of time for the store person to pick up the goods, increase the speed of operations, and reduce the error ratio will ultimately result in the increase of performance of your employees.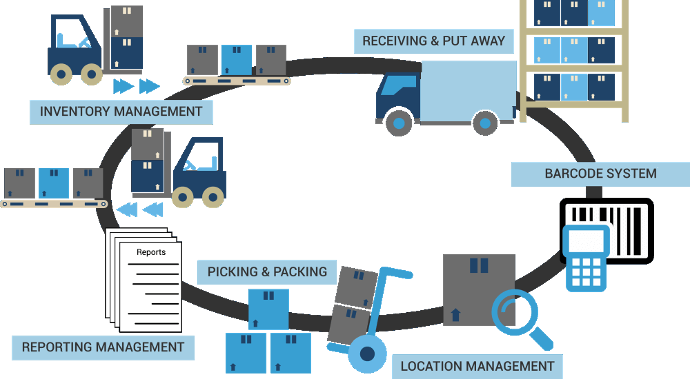 ​ Track Pending & Late Deliveries:
In Teknovate ERP software, as soon as the salesperson confirms any sales order, the software will auto-create the pending delivery against that sales order with the scheduled date of delivery set by the salesperson. It will reduce communication between sales and store departments, and avoid communication errors. also if the delivery will not be done on time based on the scheduled date, it will show them as late and highlight them in red color so you can immediately track and finish them to increase the client satisfaction ratio which will become one of the main reasons for your success.

​ Track Pending & Late Receipts:
In the same way, as soon as the Purchase person confirms any Purchase order, the software will auto-create the pending receipts against that Purchase order with the scheduled date of receipt set by the Purchase person. It will intimate the store person about all the pending receipts, and they can plan their inventory movements like issues or delivery based on this.

​ Track by serial & Lot number:
Tracking the product by Lot or serial number is very important for some critical products having self-life or warranty. In Teknovate Inventory management software, you can easily track the product by serial or Lot number, and track each and every movement of each product as well as a lot or serial number.
​ Track Expiry of products: Many products are very sensitive and have a shelf life, so before the expiry, we have to plan the consumption or dispatch of that product. In Teknovate warehouse management software, you can easily plan the product movement based on FEFO (First Expiry First Out) to save you lots of money.


​ Multiple Warehouse & Location Management:
If you are a big organization, and have multiple warehouses, Branches, and multiple locations within each warehouse , still you can easily Plan and track each inventory movement , and easily manage all the inventory movements and operations. stock management software will power you to plan your procurement and purchase smartly so your precious money does not stick in the dead stock.

​ Product cost Analysis : Tracking and calculating the Exact landing cost are very important parameters for any inventory manager, In Teknovate ERP Software, you can easily track the landing cost of each product you have purchased including the purchase cost as well as all the other expenses you have made like transportation, Unloading, etc. It will help you to calculate your exact inventory valuation and production cost as well as the margin on each sale to track the profitability of your business live.

​ Dynamic Inventory Analysis Dashboard:
Live and Dynamic reporting of Teknovate Inventory management software or warehouse management system will provide you with very detailed reports of your each inventory movements, Live stock, Forecasted Stock, inventory valuation, the average purchase cost of each product, etc. This will help you to take the right decision at right time to increase your profitability with ease.
​
All in one

A complete sales CRM solution including Pre sales and Post sales service management for all businesses with powerful features to help you win more sales faster.



​
Easy to use
Gamified Experience, reduced learning curve, easy adoption, and productivity boost are just the starting point. Keep your sales up with our business CRM Software.



​
Customizable

Create custom layouts, use APIs to connect with the apps you are already using and with unlimited customization capabilities, do more with Teknovate sales CRM.



Let's Schedule a Free Demo​

---
the inventory management, inventory management software, stock management software, warehouse management system, inventory management system, warehouse management software, inventory management tool, stock management system, inventory software, inventory tracking system
inventory tracking system, inventory software, stock management system, inventory management tool, management software, stock management software, warehouse management system, inventory management system, warehouse management software,